Today I share the best MLS sites you can use to search and find your home or land. I will tell you exactly why these are the three best Sequim MLS sites.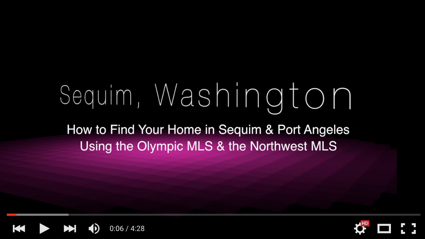 Best MLS Site #1
Our number one pick for the best MLS site in Sequim is Sequim4Sale.com, also known as Sequim-Homes.com. Unlike many MLS sites that are created and maintained by a corporation far away from Sequim, or other MLS sites that are awkward to use and not very friendly, this Sequim MLS site was designed and programmed specifically for Sequim buyers. It is easy to navigate, powerful in its search capacity, and you can save favorites and set up email alerts. 100% of all the Olympic Listing Service (OLS) listings are on this site. All local agents use the OLS, so this is where you will find all the local listings. There's an introductory video, and a series of videos to help you get the most out of this Sequim MLS site. There is also a 24/7 technician standing by to help you if you have any questions. This is by far the best Sequim MLS site. Period.
Best MLS Site #2
Our second pick for the best MLS site in Sequim is LuxuryWaterViewHomes.com. This site includes all the Northwest MLS listings for homes and land in the Sequim area as well as most of the state of Washington, including the entire Seattle-Tacoma metropolis. Only 55% of the Sequim brokers are members of the Northwest MLS, so roughly half of the Sequim listings are in this system. But this site allows you to search a much larger area for other listings.
Best MLS Site #3
The last but very powerful Best MLS site is SequimForSale.com (as opposed to Sequim4Sale.com). This site includes all listings from both the Olympic Listing Service and the Northwest MLS, which makes it a very powerful site. Even Seattle area Realtors use this site to look at Sequim listings.
Use one or all three of these MLS sites, but if you are looking only at Sequim listings, we recommend our first choice at Sequim4Sale.com.
UPDATE: See the latest updated article on the NWMLS v. OLS last edited January 17, 2021.