Bluff Stability is no small matter if you are considering a home on a bluff of any height. Most bluffs along the Olympic Peninsula are stable, not not all. The Sequim Buyer's Guide can help you know how to do your due diligence on important issues like bluff stability. The all new 2nd edition of Sequim Real Estate: A Buyer's Guide is available on Amazon.com. This Buyer's Guide has been very popular with buyers looking at Sequim and Port Angeles and Port Townsend, including buyers in more than 25 states from Alaska to Florida and Hawaii to New York.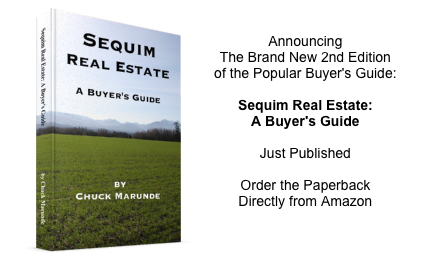 Bluf Stability
Here's a quote from the chapter entitled Bluff Homes and Bluff Stability. "We have bluffs in the Sequim and Port Angeles and Port Townsend areas with absolutely stunning water views of the Strait of Juan de Fuca and International waters with Victoria's night lights glowing on the horizon. But what about bluff stability? Is a 100 foot or 200 foot bluff stable? The answer is not easy, but there is a logical analysis that can help you decide on a particular bluff property. . . . I'm not a geologist or a bluff stability engineer, but I have spent 20 years in the area studying our bluffs, and I've read a number of bluff stability reports. More importantly, I've talked with the county's number one bluff stability engineer about the history and the issues that influence bluff stability." 
Bluff Stability Bullet List
In the book Sequim Real Estate: A Buyer's Guide, I provide a bullet list of issues that help to understand bluff stability, and a buyer's options when looking at a property on a high bluff. This Buyer's Guide is the result of over three decades in real estate, including 20 years as a real estate attorney. Chuck Marunde is the author of a number of real estate books, thousands of articles about buying, and he's a top selling buyer's agent. Chuck was just awarded the prestigious Five Star Real Estate Award for 2014, an award granted to less than 7% of over 25,000 Seattle area agents.
If you're going to spend six figures on a home in Sequim or Port Angeles, $29.95 for this Buyer's Guide is a bargain. You can order directly online from the publisher at Sequim Real Estate: A Buyer's Guide, or in a few days you will be able to order directly from Amazon.com, too. The book is full of practical advice for buyers of Sequim real estate as well as Port Angeles real estate and Port Townsend real estate.